After just 6 months on the job, Jackson Carlaw has stepped down from his leadership position, amidst crucial campaigning times in Scottish politics.
Mr Carlaw surprised the political world yesterday with an announcement of stepping down from his position as the Scottish Conservative leader.
Mr Carlaw came to a "painful conclusion" that he was not the best person to lead the case for Scotland remaining in the UK ahead of next year's Holyrood election.
"In the last few weeks, I have reached a simple if painful conclusion – that I am not, in the present circumstances, the person best placed to lead that case over these next vital months in Scottish politics prior to the Holyrood elections."
His resignation was announced just hours after he faced First Minister Nicola Sturgeon in her weekly question session in the Scottish Parliament.
He is expected to stand down with immediate effect.
This comes in light of starkly contrasting remarks just a few months ago about Mr Carlaw's confidence taking the Scottish Conservatives into the upcoming 2021 election in typically energetic aplomb.
He first joined the party in 1978, and while he said the campaign experience is "different" while he was in charge, he said: "I have been enjoying doing it as leader," with a confidence that he could withstand the upcoming 2021 election.
It is not known how long Mr Carlaw has been contemplating this decision, or where this relative U-turn has emerged from. One thing is certain; Mr Carlaw believes that, "A fresh face is the right person to lead us into that [May 2021] election."
Prime Minister Boris Johnson said Mr Carlaw had been a "tremendous servant" to the party for more than four decades.
Mr Johnson added: "As an activist, deputy chairman, deputy leader and leader, he has given his all and deserves our thanks for his efforts.
Mr Carlaw first undertook the role as the interim Scottish Conservative leader during previous leader Ruth Davidson's maternity leave, and was called upon to undertake the role after her subsequent resignation.
He was therefore, due to extensive acting leadership, a favourite for the leadership bid earlier this year, ousting opponent Michelle Ballantyne with over three quarters of the vote.
However it seems some Scottish Conservative MSP's may have misplaced their faith in Mr Carlaw: after all, six months is a relatively short time to conclude and concede to such a U-turn.
Mr Carlaw simply indicates he's been doing some stark, existentialist thinking, presumably by the fireplace with a brandy.
"I simply believe that a new leader will be able, as we recover from the Covid emergency, to make the case for the Scottish Conservatives and the Union better than me. That is all that matters.
"I leave the job with genuine pride at my time in office, both as interim leader and as leader for the last year."
It is not known if Mr Carlaw was pushed or jumped willingly, but many members of the Scottish Government have expressed shock and disbelief at his resignation.
Depute First Minister John Swinney has said he is "stunned" by the resignation, and wishes his colleague all the best. He also argued he had absolutely no idea Carlaw's resignation was coming.
With the looming 2021 Scottish election, Mr Carlaw's resignation seems to have come at a crucial time for the Conservatives- a decision that could ultimately inject some new blood into the party with positive results, or leave the Scottish Conservatives hanging without a leader during a crucial campaign.
The hot favourite for the new leader of the Scottish Conservatives is former Scotland Officer Minister, Douglass Ross, whom quit amidst uproar regarding Dominic Raab's infamous lockdown disregard.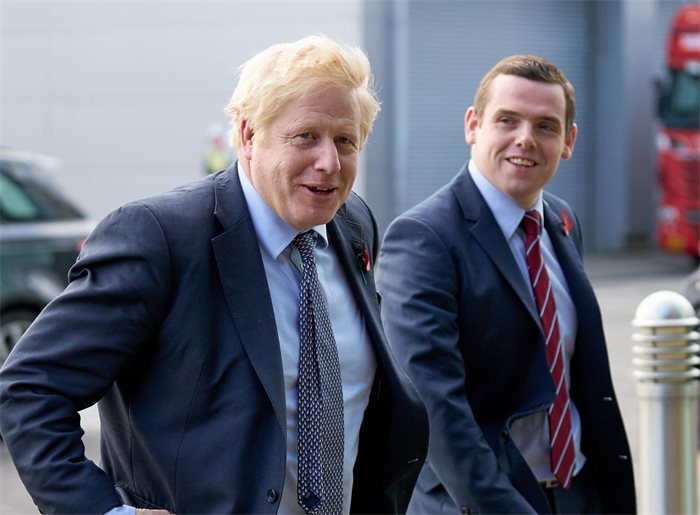 He will need to win back his seat in the upcoming 2021 election in order to become leader, but it is widely speculated that Ross is being urged internally to run for leadership.
It is also understood that some Scottish Conservatives have discussed the possibility that Ruth Davidson, MSP could stand in for Mr Ross at First Minister's Questions until the Scottish Parliament election in May, when Mr Ross would hope to win said seat.
Such an arrangement is speculative and realistically the Scottish Conservatives will have a daunting few months ahead of them, subsequently preparing for campaign season, and a new leader.
First Minister Nicola Sturgeon tweeted her best wishes to Mr Carlaw, saying that "leadership is a tough business and I'm sure his decision wasn't easy".
She added: "We've crossed swords politically on many occasions, but worked constructively on some issues too – he has, eg, been a strong voice for women suffering mesh complications."
However, Mr Carlaw's career in politics is not expected to extinguish. He intends to run for his usual seat in Eastwood in the election next May.
Mr Carlaw may have said goodbye to leadership, but certainly not the world of politics anytime soon.
Feature Image Credit: The National